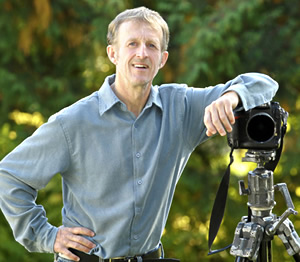 Dave Reede is a Canadian stock and assignment photographer. Although Dave photographs a variety of subject matter, he is well known for his images of agriculture and farm life. He has been passionately photographing agriculture since 1986 when he arrived on the Canadian Prairies. Dave has been documenting some farm operations for the past twenty years. His unique style of agriculture photography is sought after by many of North America's well-known companies and organizations in the agriculture sector. His agriculture imagery is also used world-wide on an ongoing basis, for uses ranging from editorial to major advertising campaigns. Dave is also an accomplished photographer of the landscape and outdoor recreation.
Whether riding on top of a combine to get a different view, shooting from a variety of stepladders, or diving out of the way of an oncoming combine, Dave creates images with creativity and impact. Over the years Dave has worked diligently to get a unique, in-depth coverage of all aspects of prairie agriculture, including farm life, crops, equipment, harvest, chemical application, agricultural landscapes and farmers.
Dave has an extensive range of photographic credits. He has won many awards for his work including PPAM Photographer of the Year, Kodak Gallery and Fuji Masterpiece Awards. He is a member of the Professional Photographers of Canada and the Professional Photographers Association of Manitoba. Dave has a science degree in Biology from Acadia University, as well as, a degree in education.


Partial list of recent assignment clients and users of stock photography

Agricore United
Agriculture and Agri-Food Canada
Aventis
BASF
Bayer Corporation
Blue Moon Graphics
Bullman Communications
Canada Post
Canadian Cement Association
Canadian Geographic Magazine
Canadian Heritage
Canadian Wheat Board
Canola Council Of Canada
Cargill
Case IH
Circle Design
City of Winnipeg
Communication Services Manitoba
Cossette Communications
Dow Agro Sciences
Firefly Books
Fusion Communications
GB Graphics
Going Places Magazine
Green Valley Custom Publishing
Harrowsmith Country Life Magazine
Hartcourt Brace and Company
IBM
Idea Marketing Group
Image Works
Imperial Oil Ltd.
Innovative Media
John Deere
Linnet Geomatics
M2 Communications
Manitoba Agriculture and Food
Manitoba Business Magazine


Manitoba Chamber of Commerce
Manitoba Crop Insurance
Manitoba Finance
Manitoba Heritage and Tourism
Manitoba Industry, Trade and Mines
Manitoba Natural Resources
Manitoba Public Insurance
Manitoba Telecom Services
Market Force
McKim Advertising
Monsanto
National Foundation for Cancer
National Research Council of Canada
New Holland
Osbourne and Barr Communications
Outdoor Canada
Oxford Properties Group
Parks Canada
Phillips Petroleum
Pioneer Grain
Postcard Factory
Princess Auto
Proven Seed
Ramboc Enterprises
Robin Hood
SC Telecom
Seed World Magazine
Smith Design
Successful Farming Magazine
Syngenta Seeds
Tom Powell Design
Tourism Winnipeg
University of British Columbia
University of Winnipeg
Whitecap Books
Winnipeg Downtown Biz
Winnipeg Hydro